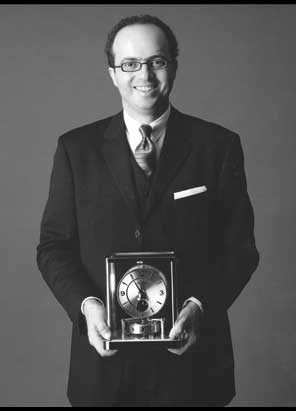 VERYIMPORTANTWATCHES.COM, the creative and innovative watchmaking site, constitutes the pinnacle of Constantin Stikas's creative achievement in the world of Haute Horlogerie.
Constantin Stikas (1963) studied Architectural Design and Photography in Paris.
He has worked for 15 years as a photographer in a wide variety of genres such as portraits, advertising, still life, fashion and architectural photography, for the majority of the most prestigious magazines, such as Vogue, Figaro Madame, ELLE, Status, Capital, Playboy and many more.
From 1995 to date, he has been engaged in multidimensional activities relating to Haute Horlogerie:
• The Very Important Watches™ Salon of Haute Horlogerie (1998-2008), which was his own inspiration and the only one of its kind in Europe, attracting all the great names of Haute Horlogerie*.
• The creation of the Charity Auction by Christie's, in 2006, which marked a seminal moment in the course of the twelve Very Important Watches™ Salons of Haute Horlogerie.
• Authoring a plethora of articles for a wide range of Haute Horlogerie publications**, which includes a selection of interviews with the foremost personalities of the field, that is unique in the world: Nicolas G. Hayek, Philippe Stern, Franco Cologni, George Daniels, Gérald Genta, Franck Muller, Philippe Dufour, Bernard Fornas, Claude-Daniel Proellochs, Henry-John Belmont, Karl Scheufele, Karl-Friedrich Scheufele, Caroline Scheufele, Angelo Bonati, Walter A. Lange, Jean-Claude Biver, Jérôme Lambert, Georges Kern, Jean-Frédéric Dufour, Osvaldo Patrizzi, Frédéric de Narp, Jack Heuer, Jean-Christophe Babin, Giulio Papi, François-Paul Journe, Aurel Bacs, Maximillian Büsser, Fawaz Gruosi, Laurent Picciotto, Pierre-Michel Golay, Jean-Pierre Musy, Paul Buclin, Christian Selmoni, Christian Laurent, Kurt Klaus, Shu Yoshino and many more.
• Founding and holding the position of Executive Editor of WOW Magazine in Greece (10 issues, 2008-today), as well as of the CLEPSYDRE Horlogerie site in Greek (2009-today) and, naturally, of the culmination of his work, namely the bilingual (English-French) VERYIMPORTANTWATCHES site, which you are currently visiting.
• Organization and delivery in Greece of the Seminars of the A.I.H.H. Organization (Association Interprofessionnelle de la Haute Horlogerie), aiming to educate the sales personnel of Haute Horlogerie products in sales terminology and techniques.
* A. Lange & Söhne, Alain Silberstein, Antiquorum Auction House, Antoine Preziuso, Audemars Piguet, Baume & Mercier, Bell & Ross, Blancpain, Boucheron, Breguet, Bvlgari, Cartier, Chanel, Chaumet, Chopard, Corum, Daniel Roth, DeGrisogono, Franck Muller, Girard-Perregaux, Glashütte Original, Harry Winston, Hautlence, Hermès, Hublot, Ikepod, IWC, Jaeger-LeCoultre, Jaquet Droz, Montblanc, Movado, Officine Panerai, Omega, Parmigiani, Patek Philippe, Philippe Dufour, Piaget, Porsche Design, Richard Mille, Roger Dubuis, Rolex, Svend Andersen, TAG Heuer, Thomas & Félix Baumgartner, Tiffany & Co, Ulysse Nardin, Vacheron Constantin, Van Cleef & Arpels, Vianney Halter, Zenith.
** Magazines directed and written entirely by Constantin Stikas:
• ΩΡΕΣ Status (Horlogerie magazine, 19 issues, 1997-2007, supplement issued with the biggest Greek magazine for men, Status, Liberis Publications)
• Folie Horlogère (Special Edition commemorating the 10 years of ΩΡΕΣ Status, 1 issue, supplement issued with Status, Liberis Publications)
• VOGUE Kosmima (Horlogerie section, 3 issues, 2000-2002, supplement issued with the Greek edition of VOGUE Magazine, Liberis Publications)
• 4T (Horlogerie magazine, 1 issue, 2007, supplement issued with the biggest Greek Car magazine, 4TROXOI, Liberis Publications)
• D-Time (Horlogerie magazine, 1 issue, 2004, supplement issued with the biggest Greek newspaper, TO VIMA, DOL Publications)
• Haute Horlogerie (Horlogerie magazine, 3 issues, 2001-2003, Greek edition of the International Haute Horlogerie magazine published by the A.I.H.H. Organization – Association Interprofessionnelle de la Haute Horlogerie –)
• ΤΑΧΥΔΡΟΜΟΣ (General interest magazine, 1 issue, 2005, supplement issued with the Greek newspaper TA NEA)
Magazines in which Constantin Stikas has contributed as a columnist:
• Status (Regular Horlogerie columnist, 1997-2007)
• Status (Regular luxury goods columnist, 2004-2007)
• VOGUE (Horlogerie contributor to several issues, 2000-2003)
• VIMA Donna (Regular Horlogerie columnist, 2004-2005)
• GK (Regular Horlogerie columnist, 2007-2008, supplement issued with the Greek newspaper Kathimerini)
Constantin Stikas has also written an article for the international Europa Star magazine