VISIT HARRY WINSTON'S OFFICIAL WEBSITE

BOUTIQUES / POINTS OF SALE

HARRY WINSTON HISTORY

Most people think that the "ingredients" which make it possible for a House to reach the top – a fortiori in the world of excellence that is the high jewellery – are quality of material used, innovative and refined design and product originality.

However, if one goes through the history of the most prestigious houses, which today still maintain their position at the top of the luxury world, their common denominator remains the passion of their founders, as well as the vision that only they could have for their art, products and clients and obviously, the teams of talented people who continue to create today and have for decades, in accordance with the values –to some extent the DNA – of the house, which they resolutely propel towards the future.

Harry Winston was born in 1896 in New York to a family of jewellers, as his father Jacob was already a jeweller in Manhattan since 1888.

Jacob and Jeannette Winston, Ukrainian emigrants, were settled in New York, when misfortune suddenly struck the family. Harry lost his mother at the age of 7 and his father, anxious to improve the life of the family, decided to sell the shop in Manhattan and move to California, where he opened a jewellery shop in Los Angeles which, moreover, benefited from being located at the centre of Hollywood film production.

Harry very early became interested in precious stones, and it is said that at 12, in 1908, he discovered a two-carat emerald at a pawn shop which was sold to him for 25 cents. The following day Harry sold the stone for 800$ and thus made his first deal!

During this period Harry helped his father while continuing to attend school. Once he graduated, he devoted himself entirely to the family business and travelled to sell jewels.

In 1914, the Winstons went back to New York and Jacob opened a shop specialising in jewellery repair. Harry began his own business in 1916, at 19 years old. The name of the company was Premier Diamond Company, and its initial capital was 2,000$, an amount he saved by trading in diamonds.

He managed, in record time, to make his first profit – around 30,000$ in cash, jewels and precious stones – that he did not take long to lose when one of his employees ran away with all the company's assets!

In 1929, Harry's father died and he continued, alone now, his journey in the mythical world of fabulous precious stones, which he loved so much! …

The young jeweller was not discouraged. On the contrary, he realised very quickly that the times were open to audacious activities and he had his very first big success, thus beginning his spectacular rise to the top of Haute Joaillerie.

With his talent for entrepreneurship, he noticed that following the 1929 crisis, even the richest people were forced to sell their jewels at a price well below their actual value, as the fashion in settings had changed. He therefore began to buy jewels to recover the precious stones and to fit them on to more modern designs. The company grew and at the end of the 20's, he bought the famous collection of Arabella Huntington for 2,000,000$ and, in 1930 – in the middle of the deep economic Depression – the famous Baldwin collection, which included the remarkable 39-carat emerald!

Harry Winston's name appeared on the front page of newspapers, his fortune increased thanks to the very lucrative sale of jewels coming from all these historic collections and it was time for Harry to leave behind Premier Diamond Company, to found Harry Winston Inc, in 1932!

Consequently, the Harry Winston House developed, not only thanks to its creations of an exceptional beauty and priceless value, but also thanks to the masterly impressive size of precious stones (each historic stone weighing some hundreds of carats was brilliantly cut into several stones of huge value), its well-known clientele of royal families or artists (the first star who wore a jewel designed by Harry Winston at the Academy Awards Ceremony was Jennifer Jones in 1943, while even the famous Burton-Taylor diamond of 69 carats carried the HW signature), and the charity work of Harry and Edna, his wife, who donated historical stones of great value to the Smithsonian Institution several times.

Harry Winston died in 1978 and his wife Edna in 1986, after succeeding him at the head of the company. They left the House to their children, Ronald and Bruce who, unfortunately, were not able to continue the work of their parents together. Today, Harry Winston belongs to Aber Diamond Corp. while the company has been on the New York Stock Exchange since 2006, under the initials HWD.

The relationship between the House and Marilyn Monroe, through the songs of the legendary actress, remains a brand image which does not have any equivalent in the history of the star system or jewellery. One cannot forget the words dedicated to him in one of her songs: "Talk to me Harry Winston!"

Marilyn alone could thus personify the friends of beautiful watchmaking mechanics, as little more than a decade ago, the House of Harry Winston started to… talk to the heart of lovers of complicated watches with phenomenal creativity that could be regarded as a living example of what the traditional great names of the Haute Horlogerie offer to stay at the top of this highly competitive industry! The first watch presented by the Harry Winston House belonged to the collection "Ultimate Timepieces" dating back to 1989, while 6 years later, in 1995, Harry Winston tried to make his debut in the very closed industry that is Haute Horlogerie by presenting a remarkable watch, a technical piece one could say, the Perpetual Calendar Bi-retrograde, equipped with a movement which will remain one of the watch classics of Harry Winston.

But the true Harry Winston watchmaking revolution began in 2001, when the Head of Department of "Rare Timepieces", Maximilian Büsser, threw the Opus bomb (sorry, I meant collection) which revolutionized the watch collection of the House, and whose shockwaves travelled as far as the heart of Haute Horlogerie.

The idea was as simple as it was brilliant: the most qualified Master Watchmakers in the world, devoted themselves freely to a true watchmaking delirium… All sorts of ideas came out against this background of profitable competition, combining various complications and, each year, all the friends of Haute Horlogerie look forward with great impatience to the Opus innovation from Harry Winston.

Among the creators of the Opus watches were watchmakers who became the stars of the contemporary watchmaking industry, while among the Opus models, some world firsts were created, as well as watches which redefined the term "jewellery watch". Such is the case of Opus 9, a time-keeper that gives time by means of a diamond chain, while perfectly demonstrating what could be an ideal symbol of a jewellery watch!

At the same time as the Opus collection which has given us 12 models to date, (and their variations), one can also admire the Project Z collection of Harry Winston, which since 2004 introduced Zalium to the manufacturing of cases, the famous Tourbillons of the House and among them, the revolutionary "Tourbillon à Glissière", as well as the "History of Tourbillon" collection that presents true masterpieces of watchmaking art. Let's not forget the very beautiful diving models of the Ocean collection, which for a few years now has presented not only platinum models, but nowadays also models in Zalium of surprising beauty.

The Midnight collection, in a more romantic style, presents very elegant models, of which the most precious is undoubtedly Midnight Minute Repeater.

Let's not forget either the models which belong to the Premier collections (the first collection of watches of the House) and Avenue (with an oval shape case), as well as the great value watches, elegantly refined, typical of high jewellery for women, a continuation of the jewellery know-how of the House using noble metals and precious stones of irreproachable quality. In parallel, each year different techniques of watchmaking are put forward, from engraving and setting, to dial decoration using delicate feathers, the innovation of the year 2012. The Harry Winston watch collection offers a large variety and unique range of choice in the watchmaking world!…

In 2007, Harry Winston became a Manufacture and not just with an ordinary address but one in Plan-les-Ouates, the suburb of Geneva which is also the home of Patek Philippe and Vacheron Constantin. For five years now Plan-le-Ouates has been the site where the watchmaking heart of the American House also beats!

Since 2010 Frédéric de Narp has been the President of Harry Winston and the man who perfectly personifies the dream of jewellery perfection and passion for adventure, unceasingly renewed, and for innovation in watchmaking. Every year, in the BaselWorld, the annual meeting of the Swiss watchmaking industry, Harry Winston represents one of the rare poles of attraction in watchmaking with regard to complications, and this is without a doubt a major success.

Harry Winston managed to create watches as eternal as diamonds!…

If Marilyn was alive today, she would certainly add to the famous title "Diamonds are a girl's best friend", a new song that would go like this: "Watches are a boy's best friend"!…

Harry Winston personifies these two faces at the same time, with the same imagination and virtuosity!

PRESS RELEASES

VIDEOS

Visit the YouTube Harry Winston page and watch the videos containing information regarding the company's products and activities.

APPLICATIONS

Discover and enjoy high end technology applications for iPhone and iPad, simply by clicking, HERE.

Visit Harry Winston's official page on Facebook

Visit Harry Winston's official page on Google

Visit Harry Winston's official page on Weibo

Visit Harry Winston's official page on Pinterest

Visit Harry Winston's official page on Watchonista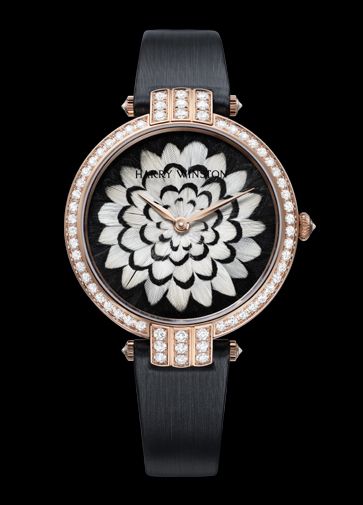 PREMIER FEATHERS
A house of high jewellery without question uses the most timeless and interesting luxury materials in its creations.
A top house of high jewellery, however, transforms all materials that its magic wand touches into precious ones.
At the 2012 BaselWorld Harry Winston brought back to the foreground the old art of feather-making, which was very popular in the past as kings, knights, and the nobility wore clothing and crowns decorated with feathers.
This very difficult work was undertaken by Nelly Saunier, one of the very rare artists of this art and the material was ethically sourced. The feathers were carefully collected from birds raised for this purpose.
Every dial is different and is a reference to works of art from the 16th century, while the creator chose the feathers very carefully, fit them into the design by altering their size and shape, and finally placed and secured them on the dial, taking care to have given them the most impressive appearance possible.
The silvered dial symbolises refinement and delicacy, the black and white is absolute elegance, the deep blue represents mystery, while the designs with the peacock feathers express femininity and sophistication...
The Premier Feathers collection is also a homage to Cluster, which is one of the most original manners to set diamonds in the company's jewels.
This is surely a watch that includes many of the important elements that constitute the DNA of the great, historic House of Harry Winston: exceptional aesthetics, passion for the métiers d'art and, of course, an insistence on conserving and disseminating the traditional techniques of a great value.
And all the above is contained in a wonderful case, that of the Premier collection, which has truly developed its most important characteristics for this occasion, offering a superb watch in all its details.
MODEL
PREMIER FEATHERS
REFERENCE
210/LQ36RL.PL01/D3.1 210/LQ36RL.PL02/D3.1 210/LQ36WL.PL03/D3.1 210/LQ36WL.PL04/D3.1
GENDER
WOMEN
CASE SHAPE
ROUND
CASE MATERIAL
18K WHITE OR ROSE GOLD
CASE DIMENSIONS
36MM
DIAL COLOR
FEATHER ART
STRAP
SATIN
FUNCTIONS / INDICATIONS
QUARTZ, HOURS, MINUTES
WATERPROOFNESS
3ATM / 30M
COMMENTS
PIECES OF ART
Προϊόντα