VISIT RJ-ROMAIN JEROME'S OFFICIAL WEBSITE

BOUTIQUES / POINTS OF SALE

RJ-ROMAIN JEROME'S HISTORY

At the dawn of the third millennium, the Industry of Fine Watchmaking was booming with emerging new watch brands and new collectors every day.

Amidst such strong competition, the overall challenge was to stand out from the crowd in the eyes of the public. At the time, one of the most effective responses for RJ-Romain Jerome was to explore the brand's identity and DNA. Thus in 2004, the brand launched its famous concept "DNA of Famous Legends".

The idea was both brilliant and simple.

With no historical leverage in the Watchmaking industry, the Geneva-based brand decided to integrate the DNA of historical emblems into its timepieces instead.

Along with its innovative concept, RJ-Romain Jerome offers four unique collections filled with Swiss horological know-how and technical expertise.

The first collection released by the brand was "Titanic-DNA" which was inspired by the legendary transatlantic ocean liner. This collection was a huge media success and helped develop RJ-Romain Jerome's reputation worldwide. Through its various collections, the brand offers extremely emotional timepieces, subtly blending sophistication and virility.

RJ-Romain Jerome's inspiration revolves around the elements "Air – Earth – Sea" and the creativity of its collaborations. The magic of the Moon, Mother Earth's power, underwater mysteries or iconic watchmaking thanks to its creative encounters.

"Moon-DNA" – "Eyjafjallajökull-DNA" – "Titanic-DNA" - Collaborations

Air – 40 years after man's first step on the Moon, RJ-Romain Jerome pays tribute to the most exciting human adventure of all time through the "Moon-DNA" collection.

By incorporating elements of the Apollo 11 spacecraft, actual Moon dust or fibres from an ISS spacesuit intothe case, dial or strap, these timepieces are constant references to the spatial adventure.

Earth – In 2010 the eruption of the Icelandic volcano Eyjafjallajökull gave birth to unique timepieces containing volcanic ash and lava rock.

The "Eyjafjallajökull–DNA" collection draws its strength from the Earth, honouring Mother Nature and our contemporary history with this new legend from the 21st Century.

Sea – The timepieces from the "Titanic-DNA" collection are inspired by the Steampunk aesthetics and are infused with a mix of steel from the Titanic and steel belonging to Harland & Wolff shipyard in Belfast, from when the Titanic was built over a century ago.

Each watch comes with a certificate attesting of the authenticity and origin of the integrated materials.

Collaborations – Led by Manuel Emch, one of the youngest CEOs in the watchmaking industry and currently at the helm of RJ-Romain Jerome, the brand has been able to express its creativity and versatility by paying tribute to our History and contemporary icons.

With the "Día de los Muertos" and "Liberty-DNA" collections, RJ-Romain Jerome honoursHumanity's strong historical and cultural symbols.

The Games-DNA with "Space Invaders®", "PAC-MAN" as well as the "DeLorean-DNA" collections represent generational references of the 80s pop culture.

The brand also promotes all forms of art, from contemporary art with the "Art-DNA", to tattoos with the "Tattoo-DNA" or nose art with the "PinUp-DNA" collection.

Thanks to its iconic "Spacecraft", created by three Swiss masterminds in watchmaking, Manuel Emch, Eric Giroux – watch designer – and Jean-Marc Wiederrecht – watchmaker –, RJ-Romain Jerome has entered the world of horological and technical icons.

RJ-Romain Jerome has been rewarded for its creativity and has won the award for Best Advertising campaign in 2010, 2011 and 2013 at the Watch of the Year ceremony in Geneva as well as the "Finja Watch World Awards" in India in 2011.

The brand was also acclaimed for its in-house designs and received the "Starhill Gallery Favorite Men's Watch Award" in 2010 for the Moon Invader and in 2011 for the Steampunk.

PRESS RELEASES

VIDEOS

Visit RJ-Romain Jerome's YouTube channel to watch videos on the brand's products and activities.

SOCIAL MEDIA

Visit RJ-Romain Jerome's official page on Facebook

Visit RJ-Romain Jerome's official page on Twitter

Visit RJ-Romain Jerome's official page on Google

Visit RJ-Romain Jerome's official page on Instagram

Visit RJ-Romain Jerome's official page on Pinterest

Visit RJ-Romain Jerome's official page on Weibo

Visit RJ-Romain Jerome's official Blog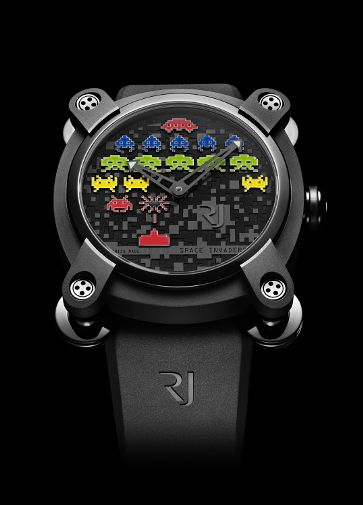 SPACE INVADERS®
Influenced by the 80's pop culture, Manuel Emch, CEO of RJ-Romain Jerome, pays tribute to generational icons and gaming with the Space Invaders® and the PAC-MAN™ collections.
Having inherited the distinctive case of the Moon Invader collection, the Space Invaders® case is made of black PVD-coated steel and the Moon SilverRJ medallion is set on the timepieces' integrated back.
The particularly complex dial is designed to look three-dimensional, as if built from pixels. Every Space Invaders® has been hand-made and lacquered in different colours according to the selected version.
The four functional ball-joints on the case corners look like the legs of the LEM from the American lunar missions. They allow the watch and its black rubber strap, whose inner part is invested with a grainy stellar pattern, to adapt to every wrist size.
These "talking pieces" not only reflect the cult of a whole generation, but they also thumb the nose at the rules of classic horology.
Every edition is limited to 78 numbered pieces.
MODEL
SPACE INVADERS®
REFERENCE
RJ.M.AU.IN.006.02
GENDER
MEN
CASE SHAPE
ROUND
CASE MATERIAL
BLACK PVD-COATED STEEL WITH INTEGRATED BACK
CASE DIMENSIONS
46MM
DIAL COLOR
BLACK 3D DIAL «SPACE INVADERS®» LACQUERED IN VARIOUS ORIGINAL COLOURS
STRAP
BLACK RUBBER WITH GRAINY-TEXTURED INTERIOR OF STELLAR-PATTERNED
FUNCTIONS / INDICATIONS
HOURS AND MINUTES
CALIBRE
MECHANICAL SELF-WINDING MOVEMENT
WATERPROOFNESS
3ATM
COMMENTS
LIMITED TO 78 PIECES
Προϊόντα